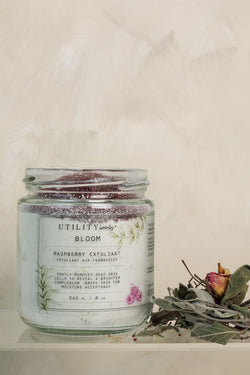 Utility Beauty
Bloom Raspberry Exfoliant
This is by far the most versatile product we offer! 
Preps skin for moisture acceptance. Kaolin clay pulls away dead skin cells and gently buffs while raspberry buds add natural vitamin C & E.
Suggested Use: Weekly
 1:   Using a clean dry spoon scoop out up to a tbsp of exfoliant into palm of hand. Drizzle a small amount of water, enough to make a paste. Now you will smell the raspberries. Massage gently to face and neck in a circular motion. Wait till till the paste dries. Rinse. Pat dry.
2:   Follow with Hydrating tonic
3:  Apply a few drops of oil of choice. Seal in with fresh hand cream.
TIP: can be used as a dry rub as well, Men love this as it is super easy. Just scoop out a pinch of Bloom. Rub on dry face and neck. Rinse, pat dry. Won and done.
Be your own mixer!  Add things from your pantry to increase exfoliation. Such as:
*poppy seeds
*finely ground sugar or salt
*cinnamon 
For face and Body.
ELEMENTS:
Kaolin clay
raspberry buds
natural aroma
100% ORGANIC AND NATURAL 
Do not ingest.
patch test for allergies
Glass container: ♻️/reusable/refillable 
 Bloom: 36
Bloom Refill: 34
Refills may take up to 1 week.